Nieuw contrabasconcert van Padding is grote aanwinst
NRC Handelsblad, 4 april 2016
Contrabas sneeuwt geen seconde onder
Parool, 2 april 2016
Componist Martijn Padding is weergaloos op dreef met zijn compositie voor antiheld de contrabas
De Volkskrant, 4 april 2016
Dat nieuwe houdt in dat er gekozen wordt voor een contrabassist, die de plek inneemt van de tweede cellist. Het arrangement is van contrabassist en componist Marijn van Prooijen. Mede door de klinkende inbreng van Rick Stotijn, die een kleine, hooggestemde bas met een hoge c-snaar speelt, komt het kwintet nu binnen als nooit te voren… Schubert – zelf verzot op de contrabas – zou met deze super audio-cd beslist in zijn nopjes zijn geweest.
De Gelderlander, 17-2-2016
Fluwelig spel van bassist Rick Stotijn
Eindhovens Dagblad, 25-2-2015
CDChoice.co.uk
Rick Stotijn stunning playing and tone are a delight 
'BASSO BAILANDO'
Piazzolla: Four Seasons
Rota: Divertimento Concertanto
de Falla: 7 Canciones
Rick Stotijn, double bass
Malin Broman, violin
Lavinia Meijer, harp
Swedish Radio Symphony Orchestra/Channel Classics SACD CCSA 33613
The evocatively witty cover photograph on Rick Stotijn's wonderful new SACD 'Basso Bailando' gives an immediate flavour of the many delights contained on this disc. Who could fail to be captivated by the excitement and seductive tango rhythms of Astor Piazzolla's 'Cuatro Estaciones Portenas', also known as 'The Four Seasons of Buenos Aires', performed here in an arrangement, made by Marijn van Prooijen, a former colleague of Rick Stotijn in the Amsterdam Sinfonietta, for double bass, violin and string orchestra ?  His excellent partner is the violinist Malin Broman, and the absolute rapport between these two performers is palpable in their fiery performance of this work; the strings of the Swedish Radio Symphony Orchestra conducted by Simon Crawford Phillips providing incisive support. In recent years the music of Nino Rota for the concert hall has come into prominence, and its high-quality has become to be appreciated by many of those perhaps more familiar with his superb film scores such as those for the great Italian film directors Fellini, Visconti and Francis Ford Coppola. Rota's 'Divertimento Concertante for Double Bass and Orchestra', composed between 1967 and 1971, is a neo-classical work. It was written for the Italian virtuoso Franco Petracchi a colleague of Rota when they both worked at the Liceo Musicale in the Bari Conservatory . The piece is full of beguiling melodies and with its captivating orchestration is reminiscent of the music of Rossini whose style it emulates. Its four contrasting movements – Allegro, Aria, Marcia and Finale (a minor proofing error on the liner notes transposes the order of the two middle movements) – employ the full four octave range of the double bass, and set challenges for the soloist that are easily met by Rick Stoijn whose stunning playing and warm tone are a delight. Mats Rondin conducts the Swedish RSO in this work. The final work in this imaginative programme are arrangements, again made by Marijn van Prooijen,  of six of Manuel de Falla's Seven Popular songs ( Seguidilla Murciana is omitted)  for the unlikely combination of double bass and harp – yet they work brilliantly. Rick Stotijn's partner here is the exceptionally talented young Korean harpist Lavinia Meijer who has already made  a number of highly rated solo recordings for Channel Classics. With Stotijn's double bass emulating the vocal line and Meijer the sound of a guitar this arrangement offers a new slant on the many vocal versions of these songs. The Piazzolla and Rota works are both live recordings, made (October and March 2012 respectively) in the lively and generous acoustic of the Berwaldhallen, Stockholm. Channel's 5.0 DSD sound has great presence and clarity. It also retains the best qualities of live recordings that include spontaneity freshness and immediacy, but without the disadvantages of any audience noise or applause. The De Falla was made in the intimate and ideal church acoustic of Westvest, Schiedam. This is a more than worthy successor to Rick Stotijn's marvellous Bottesini disc, so if this programme appeals, do not hesitate – you will not be disappointed.
Gramophone, June 2014
Dutchman's soulful delivery… Stotijn keeps our attention from his commanding first entry through to his 'cheeky chappie' characterisation of the finale's rondo theme.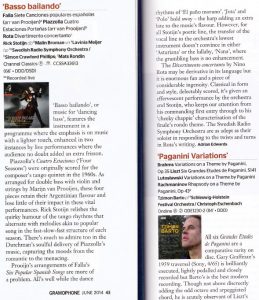 click image to enlarge
Plato Mania
'een cd om verliefd op te worden'
read review
SA-CD.net
Basso Bailando
read review
Written in Music
Basso Bailando
read review
TheStrad.com
Basso Bailando
read review
Opus Klassiek
April 2014
read review 
Luister
Vlammende passie met dansende bas
Classics Today
"The Best Bottesini CD Ever ?"
June 2012
read review
Nederlands Dagblad
"Stotijn laat zijn bas smachten, steunen, maar vooral zingen. Zijn techniek is fenomenaal…"
May 2012
read review
Opus Klassiek
"Je moet dit gehoord hebben om het te geloven: dat iemand zó virtuoos en zó vrij op een contrabas kan spelen."
May 2012
read review
Klassieke Zaken
"een voldongen feit: Er is geen mooier solo instrument dan de contrabas van Rick Stotijn"
May 2012
read review
De Volkskrant
"De allure van een vlinder of kolibrie! Zingen zit Stotijn in het bloed"
April 2012
Trouw
"Prachtige cd om heel vrolijk van te worden."
April 2012
SA-CD.net
Performance:  ***** Sonics (MC): *****
April 2012
Rick Stotijn's bass can match Liza Ferschtman's agile violin playing not only in the hair-raising rapid figurations in which the piece abounds, but also in the work's lovely cantabile melodies…
Those familiar with Bellini's opera will revel in the lyrical outpouring of gorgeous melody in the opening section taken from the aria 'Ah te, o cara' and be astounded by the dazzling articulation in the later section shown by Rick Stotijn and his partner the equally talented cellist Monika Leskovar.
Enthusiastically recommended – a disc not to be missed.
Copyright © 2012 Graham Williams and SA-CD.net